Travelling in Northern Ireland
Travelling in Northern Ireland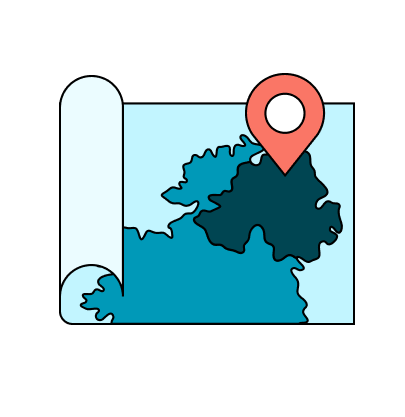 Travelling in Northern Ireland
Current restrictions in Northern Ireland means that no unnecessary travel is allowed. These restrictions are expected to stay in place until at least 12th April 2021, but they will be subject to review after Easter 2021 .
There is guidance to help you understand how to travel safely during the coronavirus (COVID-19) pandemic in Northern Ireland as restrictions ease.
The stay at home order than came into force in January 2021 will be relaxed, but a "stay local" message will remain in effect.
This includes when using public transport, walking, cycling and travelling by car.:
•Safer travel guidance for public transport users, walkers, cyclists, drivers
Public transport
Public transport will still operate for essential purposes, but will have a reduced service.
Since 10 July passengers aged 13 and over travelling on public transport in Northern Ireland have been required to wear a face covering, unless they have a reasonable excuse.
Face coverings are also required in public transport stations.
Taxis
Taxis can operate for essential purposes. Face coverings must be worn by passengers. The driver must also wear a face covering unless there is a screen between them and their passenger.
On your journey
The number of passengers buses or trains can carry will be fewer than normal due to social distancing.
Some services may be at capacity and unable to pick up further passengers particularly at busier periods. This may affect your journey and you should be prepared to wait for the next service.
When travelling, keep a two-meter distance from people outside your household at all times.
There may be situations where this is difficult, for example:
when getting on or off transport
on busier services
at busier times of day
when walking through stations
In these cases, you must:
wear a face covering to protect others, unless you are exempt from the law and/ or have a reasonable excuse
avoid physical contact
try to face away from other people
keep the time you spend near others as short as possible
When travelling you should also:
treat transport staff with respect and follow instructions from your transport operator, including notices in stations about which seats to use or how to queue – they are trying to keep everyone safe
wash or sanitise your hands before and after you travel, as well as after you touch frequently-used surfaces like door controls and handrails (new public sanitation units are in stations for your convenience or carry your own hand sanitiser)
be prepared to queue or take a different entrance or exit at stations
wait for passengers to get off first before you board making sure to allow room for social distancing
respect other people's space while travelling
avoid consuming food and drink on public transport, where possible
be considerate of pregnant women, older people, people with disabilities, or those travelling with children, who may require a seat or extra space including the use of priority seating and the priority space for wheelchair users on buses and trains
be aware and considerate of some individuals who may have hidden disabilities and may not be able to follow some of the rules, like social distancing or wearing a face covering
Some transport providers (such as ferry operators) may have additional advice in relation to social distancing or health and safety – you must follow this advice at all times.
Cross-border travel
Translink has reduced its cross-border coach and Enterprise rail services. You can get the latest information by checking Translink's journey planner(external link opens in a new window / tab) on the day you wish to travel or by phoning 028 9066 6630.
You can find the Irish government's latest public health advice at this link:
For information on international travel, click here.
Updated:

4 weeks ago
Posted:

October 28, 2020 9:04 am
Share: